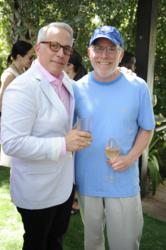 Miami, FL (PRWEB) February 25, 2013
Norwegian Cruise Line announced today that celebrity chef and Food Network star Geoffrey Zakarian will create and oversee the opening of his seafood restaurant, Ocean Blue by Geoffrey Zakarian, on the lines newest ship, Norwegian Getaway, which will sail year-round to the Eastern Caribbean from Miami beginning February 2014. To celebrate this exciting announcement, Norwegian partnered with Zakarian for an exclusive lunch on Saturday, February 23, 2013, at Soho Beach House in South Beach, during Miamis South Beach Wine & Food Festival, further signifying Norwegian Getaways strong ties to her Miami home. Geoffrey Zakarians new restaurant is located in the ships hub amongst three expansive, action-packed decks called 678 Ocean Place and includes innovative outdoor spaces along The Waterfront, the ships oceanfront promenade, offering guests an unparalleled experience with a unique connection to the ocean.
The restaurant, Ocean Blue by Geoffrey Zakarian, will bring a luxury seafood dining experience to Norwegian Getaway, utilizing all of the ingredients and techniques that Zakarian employs in his land-based establishments to three distinct dining locations on board: Ocean Blue, Ocean Blue on The Waterfront, Zakarians take on a boardwalk clam shack, and The Raw Bar, serving crustaceans and wines by the glass. In developing the Ocean Blue concept for Norwegians newest ship, Zakarian is orchestrating every aspect of the restaurants, from the menus to the uniforms and the glassware. On select sailings, Zakarian will also host meet-and-greets with Norwegian Getaway guests, along with in-person cooking demonstrations and intimate cooking experiences for smaller groups. The first location of Ocean Blue will premiere on board Norwegian Breakaway, Norwegian Getaways New York City-based sister ship in April 2013.
I am thrilled to announce that the Ocean Blue concept we developed for Norwegian Breakaway will also have a home on her Miami-based sister ship, Norwegian Getaway, said Geoffrey Zakarian. I am so proud of the concept, menus and d